NZ's largest backpacker accommodation network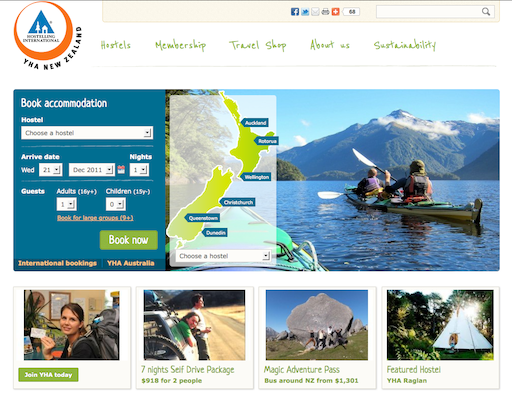 Site purpose
YHA New Zealand operates New Zealand's largest backpacker accommodation network. It is a membership-based, not for profit incorporated society. YHANZ works in a technically literate, fast moving market, with high expectations of online services. It has had online bookings since 2004 and now brings in over one third of YHA's accommodation income from its website.
YHA was looking to replace their existing website with a better website management platform, improve the current booking channel and provide a better overall online experience for their members.
Some key objectives were:
To grow at an annual rate of 15% with the goal of $6m of sales in YHA owned hostels by June 2013
To increase web revenue to 50% of total YHA revenue
To be the leading hostel website in the Southern Hemisphere by mid-2012
To be regarded as an authoritative site for quality information and links to other high quality providers
What we did
YHA staff assigned to this project had a very clear vision, and understanding of the business requirements. This helped a lot in managing the many requirements for the website, and the many vendors, ensuring a successful outcome.
The SilverStripe project team focused on understanding their business to the same level, including site visits to hostels, and working very thoroughly on requirements with the client, before starting work on any elements.
We began with a prototype phase to establish some solid grounding for the complicated booking path, and to validate the ideas behind the proposed development. This mitigated many of the potential risks given the complexities of the booking process.
The main project was based around the booking path and integration with Guest Centrix, the third party property management system (PMS) which holds hostel inventory. Each hostel manages its own database, but all hostels and the central customer services team can view and make bookings at every hostel. This functionality provides the basis for inventory supply to the website. SilverStripe were instrumental in using a new set of web messaging standards known as the Open Travel Alliance (OTA) to rewrite the web services from website to inventory databases.
Complex business rules and many possible permutations of rate, room, bed gender and age needed a high level of validation in the Content Management System (CMS) and via the messaging, in the PMS. This included integration with YHANZ's membership system, MISO, and Tourplan, which is the organisation's travel product and package management system.
Design was refreshed, using the previous site elements as a guide, as YHA had recently reworked this design. Improving the readability of the text font and adding more visually dynamic content and elements has achieved a fresh, easy to navigate look and feel.
As part of the project, a separate mobile site (m.yha.co.nz) has been developed, providing the ability to make a simple hostel booking via your smart phone, including paying by credit card.
What users can do now
Users can view the availability screen with calendar view and have the ability to flick between daily rates and an availability summary
Privatise room function where friends booking a dorm room can buy the last bed in a room to guarantee the room for themselves
Family room function, which uses the privatise room function but applies a 50% discount to the vacant bed to make accommodation for families even better value
Accommodation discounts for members calculated and displayed on the fly
By adding a membership to the booking, room rates are automatically updated to reflect discounted member rates
Ability to self package by adding package, transport and activity components to an accommodation booking
Challenges
The new site relies on the integration of three separate third party tools - supplying availability, membership, and package details - which, while crucial for running the site, was also one of the project's main challenges.
The main third party vendor was the PMS supplier CMS Hospitality, based in Australia, and between YHA and ourselves, we managed an open communication stream to ensure we understood each other's challenges and worked together on solutions. Regular Skype contact and meetings were held between all parties throughout the process.
Measures of success
The project has been complex, with high standards of innovation and work quality expected from all of our vendors. Daniel Shields of YHA admits that from the outset, they pushed SilverStripe to think beyond existing booking engine functionality, to provide new levels of service for YHA guests and members.
The project team, using an iteration based approach, combined YHA NZ's industry knowledge with SilverStripe's technical savvy to pursue some significant firsts in accommodation bookings. SilverStripe quickly understood the business drivers and worked to bring genuine improvements to travellers looking for a simple, secure and guaranteed accommodation booking.

A key success measure for us was an increase of conversions from 'look to book'. We wanted to see a higher number of people entering and browsing the site actually make a purchase. Central to this was improving the booking path functionality. While there is a lot of complexity behind the website, we wanted the users to find booking quick and easy. Within the first month site conversions have improved on the same period last year by 5%. With further refinement and customer familiarity, we expect this to continually increase.

The SilverStripe CMS which was a key contributor to our vendor choice, leaves us poised to launch the next phase of the website enhancements. Multiple language management tools and the ability to add and manage new product content without expensive programming fees, lend themselves to enhancing the business performance of the site.

We look forward to a continued relationship with SilverStripe, as we consider an exciting programme of further developments.