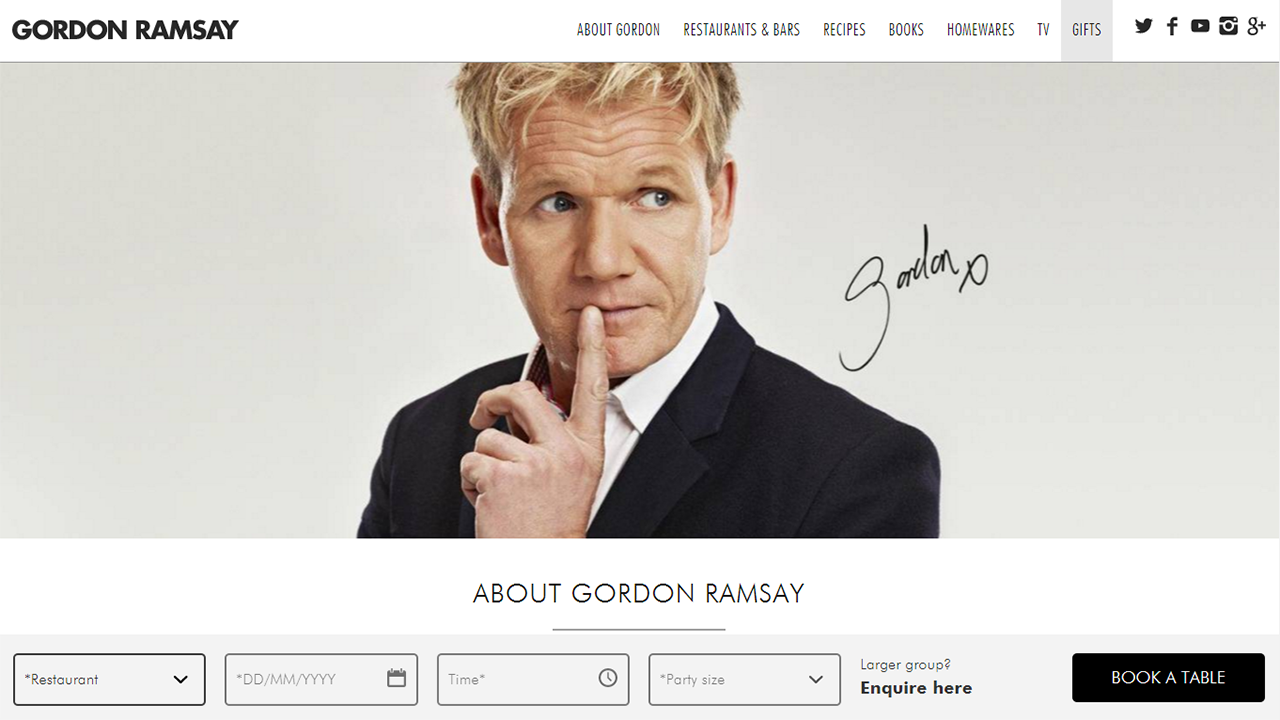 Featured
Mar, 2016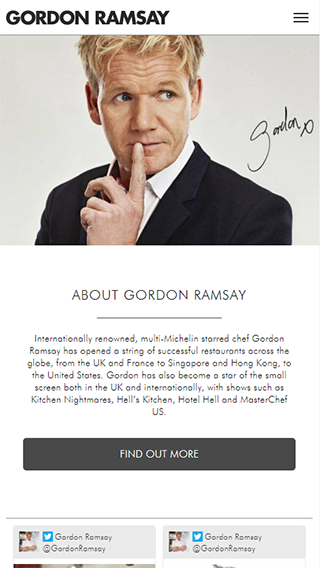 Project summary
The Gordon Ramsay site is focussed at Gordon himself, communicating the breadth of his activities across restaurants, media, charity and also to publish recipes on line. The site allows the personality behind the brand to come across and for the audience to interact with.
Background
At the age of 31, Ramsay set up his first wholly-owned and namesake restaurant, Restaurant Gordon Ramsay. Restaurant Gordon Ramsay opened in 1998, and quickly received the most prestigious accolade in the culinary world – three Michelin stars. Today, Restaurant Gordon Ramsay is London's longest-running restaurant to hold this award, and Ramsay is one of only four chefs in the UK to maintain three stars.
Now internationally renowned and holding a number of Michelin stars, Ramsay has opened a string of successful restaurants across the globe, from Italy to the United States. These include two ventures in Doha, Qatar, which opened in 2012; a restaurant in Bordeaux; three restaurants in Las Vegas (Gordon Ramsay Steak at Paris, Gordon Ramsay Pub and Grill at Caesars Palace and Gordon Ramsay BurGR at Planet Hollywood); Gordon Ramsay Pub and Grill in Atlantic City; Bread Street Kitchen and London House in Hong Kong; and Bread Street Kitchen in Singapore."
Our challenges
The breath of Gordon's activities had to be accommodated in a logical and clear structure. Social integration is a clear requirement and allows the personality to shine through, plus the social channel permits the publicising of the charitable work Gordon undertakes with his wife Tana.
Our solutions
The site was developed with a similar structure to the Gordon Ramsay Restaurants site, but with a more personal visual style. Social integration was built into the site utilising the Stackla tool and sections such as Recipes promote the sharing of content to encourage social interaction. To allow integration between the two sites the restaurant booking engine is available on page.
The results
Daily traffic has increased by around 280% since launch and has peaked at over 21,000 sessions per day. Over the past 6 months there have been around 2 million page views. Mobile traffic has accounted for around 58% of sessions on the site in the same period showing the value of a truly mobile optimised experience.
Launched

2 September 2015