Lord's - The home of cricket
by GBarden
---
Based in North West London for the last 200 years and owned by the prestigious Marylebone Cricket Club (MCC), Lord's Cricket Ground has survived two World Wars and hosted some of the greatest cricket matches of all time.

As the most renowned club in the world, it knew there was the opportunity to serve a broader, global audience that would lead to increasing revenue. But all of this had to be achieved whilst retaining a signature feel of heritage, history and excellence.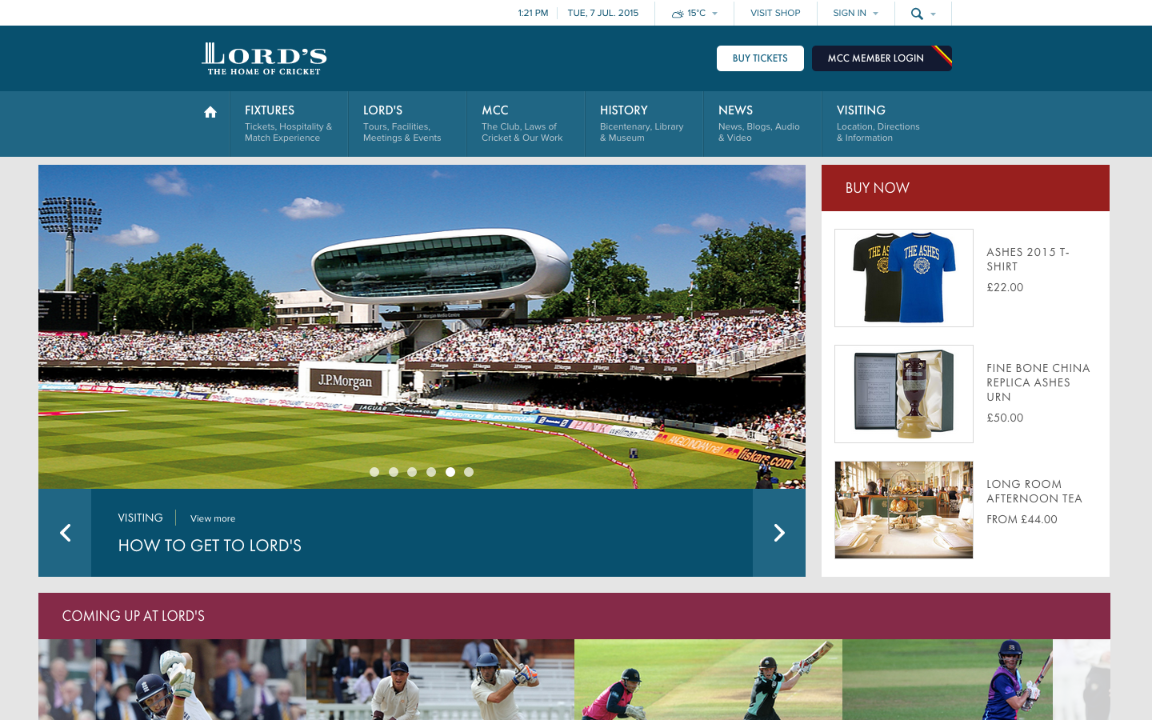 Featured
Dec, 2015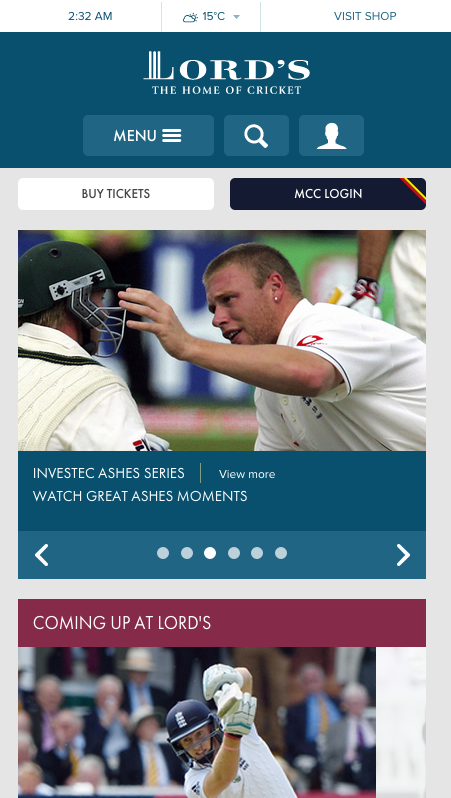 Challenge
The first challenge for MCC was to take seven disparate websites designed nearly ten years previously and turn them into a single unified customer experience.
Online fans around the world use the site for everything from booking tickets to consulting fixtures to ordering merchandise and more. The opportunity to improve this customer experience was directly linked to an opportunity to increase revenue and ROI from the site.
The second key challenge was operational. Multiple teams across multiple sites, including technical, marketing and editorial staff had to work together to keep content consistent and work around disadvantages of the previous design.
Additionally, the design language of the web had moved on by leaps and bounds -- the new standard for websites was they had to be responsive and, therefore, work on any device. This was a challenge that the team at Lord's had at the forefront of their minds given the volume of visitors sitting within the venue carrying one or more mobile devices in their pocket.
Finally, the range of different systems and technologies coming together in the customer experience presented its own challenge. The old site had become a Frankenstein's monster that had to bring together elements including the complex fixture management platform, a third party enterprise ticketing system and a centralised data warehouse.
The existing site was unable to join the dots between each system and bring them together as a cohesive whole -- either for customers or the teams managing each aspect.
The team at MCC knew it was time to reconsider their approach to the website and tackle these challenges to serve the customer.
Ian Treseder, Digital Manager at MCC explains: "The dream is to get to the point where a user only sees one website and one basket. We want them to be able to purchase anything from a ticket to a t-shirt in one process, whether they are sitting in the stadium or halfway around the world."
The Solution
MCC put together an initial business case and strategy to integrate its web presence in a single Lords.org channel. Funding was secured to kick the project off and the selection process led them to Positive -- a digitally driven marketing agency that regularly uses the open source SilverStripe framework as a foundation for its content management needs.
The new website was designed with SilverStripe to unify Lord's entire web presence and create that single customer view.
Beyond the standard e-commerce offerings for booking tickets and buying merchandise, the site also incorporated a private area for MCC members with a complex fixture management database to apply and play in international matches. Positive used SilverStripe to integrate an existing SEE360 ticketing system and CRM, the email platform, real-time matchday scores and their museum and library service, passing all data to the managed data warehouse. Since launch, Positive has added catering and box management functions to the capabilities of the site.
The customer experience was now also designed to present an optimum experience no matter what screen size the viewer was on. SilverStripe's native support for responsive themes made the integration a simple part of the project with massive benefits affecting every element of the experience.
Operationally, SilverStripe's CMS made it easy for teams to come together and do their job, whatever their technical knowledge. This in turn helped teams work more closely together and get more done toward the grand goal of creating a single simple experience.
Technically, Positive supported the SilverStripe setup with load-balanced hosting and Amazon CloudFront caching ensuring that even during periods of high demand like match days and ticket releases, the site would remain available.
Finally, because SilverStripe is open source, it couldn't be easier to improve the integrations with the other complex parts of the project, including the payments system and substantial data sources.
Again, Ian describes the solution that has been put in place: "We chose SilverStripe's CMS and Framework for the Lord's website as the project's complexity meant an out-of-the-box solution would not work. We needed a platform that was customisable enough to deal with the expectations of Lord's and integrate with a range of third-party services. SilverStripe delivered on this."
Pete Cronin, Head of Technology, Positive adds: "Every client we've delivered SilverStripe to are still using the framework and invite us back when the time arrives for redevelopment, which says quite a lot. We think it's a great development platform and there's nothing we haven't been able to achieve"
The Benefits
In many ways, today's new homepage at Lords.org speaks for itself. But the data reveals what a difference it has made under the surface.
Following deployment, Lord's saw an overall web traffic increase by 18%. On mobile platforms, traffic spiked by 300% of its previous levels. And most importantly, this improved customer experience has increased revenue from the site by 51%. Positive's design and SilverStripe's intuitive and easy to use CMS has also cut the content creator's admin time by 50%, meaning more time is spent on actually creating captivating material for the website.
SilverStripe Framework has made it easy to turn the website into a multimedia hub too. Lords works closely with a TV production company to develop growing amounts of video material, which can now be enjoyed by visitors and improve their experience of the site and understanding of the brand's latest news. Since deploying the new site, users spend more time on Lords.org, especially on mobile.
Finally, this SilverStripe project went hand in hand with Lord's becoming the first venue of its type in the world to offer free WiFi to visitors. The fresh website ensured that visitors sitting in the grounds could quickly access MCC's social media profiles, easily book tickets for future events or buy souvenirs. And this is just the start.
The final word goes to Ian at MCC: "SilverStripe and Positive have provided a foundation for MCC to invest in its customer experience well into the future. Our continuing updates won't require a full overhaul in this manner again and we can be much more agile to ensure we're making life easy for our customers."