Parliamentary Commissioner for the Environment
by SilverStripe
---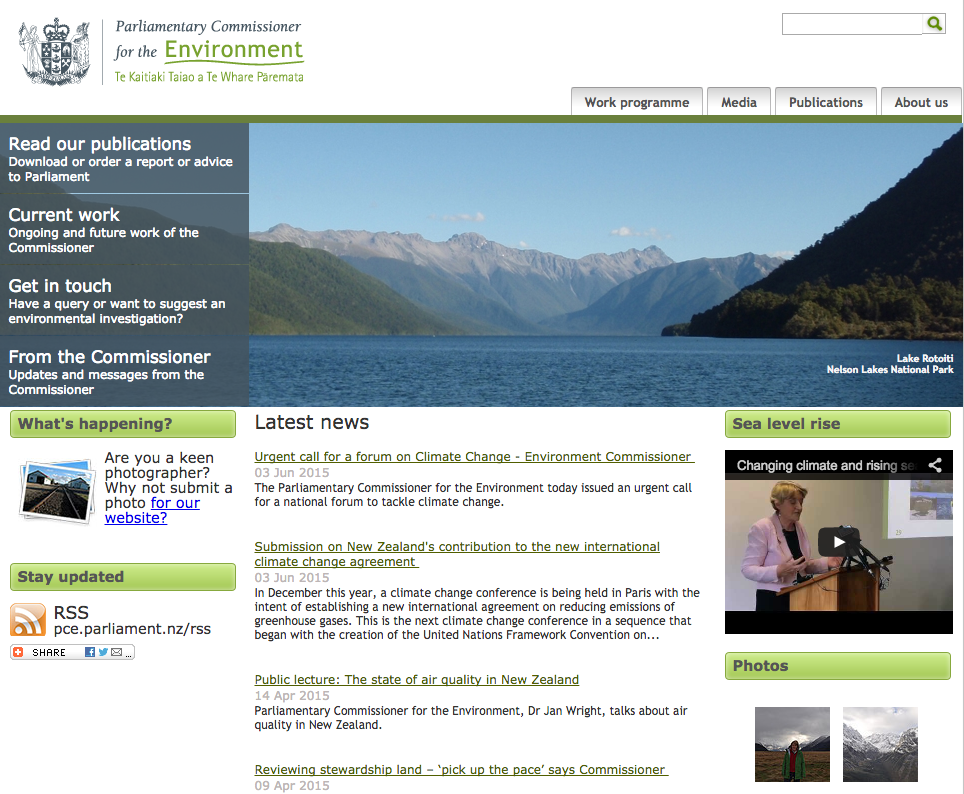 Site purpose
The Parliamentary Commissioner for the Environment's (PCE) role is to hold Parliament accountable for its environmental policies and actions. The Commissioner is an independent officer of parliament standing outside the system of environmental management, reporting on it. The Commissioner does not report to the Ministry for the Environment nor to any specific Government Minister. The organisation has 17 staff, many of whom are environmental science or policy experts.
The PCE's website exists to help the public understand its role, and to share its findings. The site serves a variety of audiences, including the Ministry of Education, university students, and industries with vested interests in the environment, such as forestry. The audiences want to be kept informed, and use PCE findings for their own work.
What we did
The PCE's old website had been built on the MySource Matrix CMS, but the version they were using was no longer commercially supported. PCE found the implementation to be difficult to use, and it didn't meet web standards. With a pressing need to upgrade and invest financially in order to bring the implementation up to scratch, the PCE was particularly keen to look at options that increased the level of support that they were receiving, were open source and allowed greater user control.
Working closely with Australian official partner Hive.net.au, our SilverStripe Australia team drew on specialist MySourceMatrix knowledge, and used a purpose-built connector tool that carried across data, URL structures, templates, and configuration into the SilverStripe CMS. Hive.net led the project and set about working with the PCE in determining an architecture and implementation that would be both intuitive and simple for the in-house team to manage. SilverStripe Australia worked with the PCE to upgrade a backup of their current system to a more recent GPL release of MySource Matrix, and then migrated semi-automatically to SilverStripe CMS. One thing that was particularly helpful to the PCE in the transition was that we were also able to carry over detailed information contained in the attributes of the MySource Matrix assets, not just images and content.
Hive.net.au worked with the existing visual design of the PCE site, but fixed inconsistencies so that it works across browsers. Using SilverStripe CMS means that it is now easy to add in third-party applications such as YouTube videos and Twitter content, and functionality has improved. It also futureproofs the site for foreseeable technical requirements - such as becoming a data portal.
Thanks to our quality assurance programme, the PCE know their site is resilient, and they receive get alerts when things aren't working. The CMS is easier to upgrade, and it is easier to add new features.
What users can do now
Now that their website is more reliable, the PCE can focus on writing content instead of dealing with technical issues. They can now do more things with that content, easily push it out through various channels, and spend more of their effort making improvements for users instead of struggling to maintain the old architecture.
Content authors at the PCE have an easier time - now tasks such as adding and editing pages can be done without technical knowledge, less training, in fewer steps, with fewer user errors or mistakes, and taking less time. This improves productivity and job satisfaction.
The public can see timely info on the site, better understand the role of the PCE, and their activities and concerns. They can share PCE information easier, and help keep the government accountable.
Site readers can use Flickr, a dedicated YouTube channel and Facebook to spread content around the web.
Measures of success
The new site is easier for the staff at the PCE to upgrade themselves, and to add in new content.
It is a better use of taxpayer money as maintenance costs are much lower, and money can be spent on improving the website solutions rather than keeping it "business as usual".
The PCE receives a better level of support from SilverStripe Ltd.
SilverStripe is an integral part of the PCE's communications strategy. Its social media modules in particular make it easy to keep it updated and integrated with the commissioner's online presence."
PCE Corporate Services Manager Sarah Clark