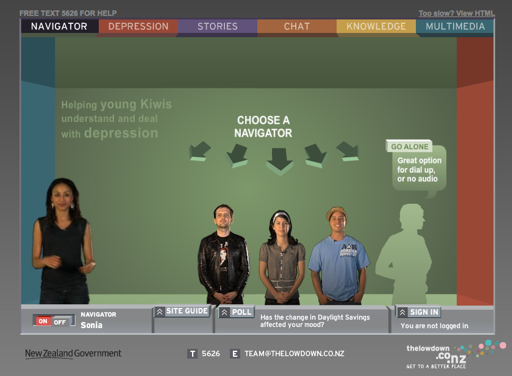 Site purpose
The focal point of a New Zealand Ministry of Health initiative to combat youth depression, The Lowdown is a highly interactive Flash and video-driven website.
One in seven young New Zealanders experiences serious depression at some point, and suicide is the second most common cause of death for young people in this country. The Ministry's initiative aims to help young people recognise and understand depression through stories from other people they can relate to. The site also encourages young Kiwis to seek help if needed and offers a free online counselling service.
What we did
We were the technology provider for the site and built the site on top of the SilverStripe platform. Along with several other companies involved in the project, we:
Built both a highly interactive Flash and a simpler HTML version of the site.
Allowed content editors to manage Flash animation, video, audio files, and text, through the CMS.
Set up video delivery through a content delivery network with servers across New Zealand, to ensure smooth playback even during times of high website traffic.
Developed tools to allow youth councillors to securely interact with people on the site via both public and private discussions.
What users can do now
Users watch videos in which New Zealand musicians, actors, and other teen role-models talk openly and honestly about their experiences with depression.
Users get helpful, practical information and advice on the topic of depression.
Users download informative fact sheets.
Users talk to others in an interactive chat room.
Users get private and free online counselling from trained professionals.
Measures of success
The site receives hundreds of thousands of page views every month, and the videos have been watched hundreds of thousands of times.
In the first few months of usage, more than fifteen callouts to avert likely suicide attempts were attributed to the website. In addition, online counselors regularly call emergency services to intervene where young people are judged to be at immediate risk. The website is successfully reaching people who don't respond to more traditional means, such as phone service or face-to-face counselling.
TUANZ named the project as a finalist in their 2008 Innovation Awards.
The 2009 New Zealand Internet Industry Awards announced the project as winner of their Best Societal Impact category.