Skinny Mobile is a prepay mobile provider using Spark's mobile network. Fully owned by Spark, but operated as a separate business, Skinny Mobile is a lean startup comprised of only 60 people, including the customer care call centre.

Since its inception, Skinny's business model has continuously evolved. Skinny identified an opportunity to substantially improve their digital platform to reduce costs, increase sales, provide better self-service management tools and customer usability.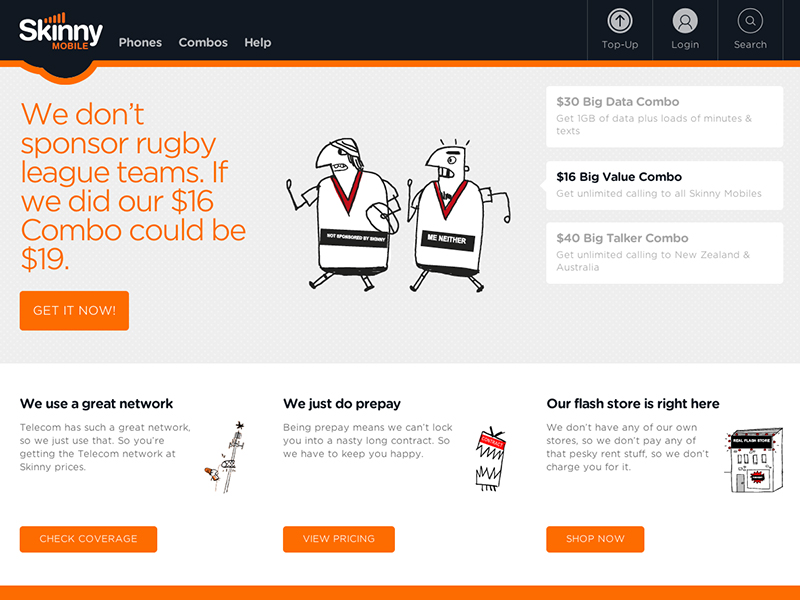 Featured
Nov, 2014
The Challenge
Skinny Mobile does not own any brick-and-mortar stores, which creates savings for customers through lower overheads. Obviously this makes their website a crucial business asset providing a competitive edge in the fast moving telco market. Skinny Mobile needed a smarter digital experience that would also deliver a simple and clear experience without all the confusion of existing industry websites. Undoubtedly the biggest challenge was seamlessly integrating several existing third party systems to unlock new functionality and features for customers.
The Solution
Bringing Skinny's ambitious plans to life required a complete redesign that created an overall simpler user experience, a more streamlined purchasing process and an easy way of viewing and managing your mobile account. This was made possible through a close partnership between DNA and SilverStripe. New interaction and features not found on other sites were created, allowing Skinny to set a new benchmark for telcos in New Zealand. In order for Skinny to continually evolve content without substantial investment, the redesign also included a move to the intuitive SilverStripe Content Management System (CMS).
1 + 1 = 3 – The Power of Partnership
The success of this project hinged on SilverStripe and DNA acting as one cohesive team. Despite being split across different companies and locations, team members were able to work together seamlessly by embracing the Scrum methodology and the Agile Framework. Skinny Mobile was able to take advantage of both DNA's expertise in crafting great user experiences as well as SilverStripe's skills in integrating websites with existing business systems to bring these to life. Paul Touhey, Skinny CIO, says "when looking for a partner, it become clear to us that most companies were specialists at either front end or back end development. With DNA and Silverstripe we have found a strong team who complement each other's strengths to provide an end-to-end solution through not only the initial project but also ongoing development and support". The project is a shining example of how a strong partnership can create far greater value than individual company strengths.
Keeping complex systems behind the scenes
Allowing Skinny customers to enjoy a simple user experience online required a number of complex system integrations behind the scenes. The Skinny website interacts with many external systems to provide the control a user needs to manage their account, get support, and purchase phones/SIMs/add-ons/combos. The primary interaction of the website is with the Skinny Mobile Virtual Network Operator (MVNO) software that manages mobile accounts and usage. Everything from topping up your account to linking a child's account to yours involves multiple interactions with the MVNO. SilverStripe took care of the 'heavy lifting' involved with integrating key existing systems including: Mobile Virtual Network Operator Platform, Oracle RightNow, Ingram Micro logistics and Amazon S3.
Furthermore, the SilverStripe CMS and Framework is integrated with and relies heavily on Skinny's payment gateway provider, a forum and support system, and the order fulfilment system. Each have their own APIs and are tightly integrated with the website's core function. The vast number of complex interactions and dependencies meant SilverStripe used automated testing throughout project development to ensure failures and anomalies were caught before releasing to the live site.
The end result is greater functionality for Skinny customers without making using the site complicated or difficult to use. The new site marries complex systems to create a smoother purchasing experience. For example, previously customers needed to purchase a SIM first and then register and purchase their Combo plan after it had arrived. Skinny customers are now able to create an account and purchase a SIM provisioned with a Combo at the same time.
Unlocking simple e-commerce
Skinny is a mobile company so naturally they sell mobile phones, from feature phones to top-of-the-line smartphones. To address this aspect of their business, we implemented the Shop, Shop Discount, and Stock Management modules to allow Skinny to sell a range of phones and give customers promotional coupons for various deals and discounts. All of this is manageable by Skinny staff through the CMS without the need for Skinny staff to write a single line of code. This also allows them to manage the stock levels of each product in their shop to ensure no customer is left disappointed.
The Results
The new site is already delivering on the key goals to deliver better sales, improved self service tools and reduced customer service management. Since launch, Skinny has observed an increase in customers using the website for regular purchases. Overall credit card top ups are on the increase with the number of customers setting up Auto Top-Ups having already grown substantially by 53%. Skinny's website redevelopment resulted in a simpler, more integrated experience for customers – with a roadmap for ongoing user experience and feature development.
In the Press
Skinny Mobile and DNA relaunch website targeting mindsets
Stoppress, June 2014
The challenger's cloud platform
CIO NZ, May 2015